OVERVIEW
The UIT Growth Equity General Partnership seeks to identify and invest in high growth, late-stage, venture capital-backed private companies. The Partnership's goal is to provide Canadian investors with access to unique, tax-efficient private investment opportunities with the potential for significant risk-adjusted returns. The fund's focus is on building a high growth, high quality portfolio of investments with diversification across themes including cloud and big data, education, marketplaces, sustainability, social/mobile.
The UIT Growth Equity GP is a privately owned investment partnership, that includes Faircourt Asset Management Inc. and various Partners with extensive experience in the area of private equity. The directors and officers of the UIT Growth Equity GP have experience in analyzing and understanding the risks associated with private investments, discretionary investment management, asset management, and the overall investment process. The team collectively possesses over 125 years of investment industry experience, in the Canadian, U.S. and International markets.
UIT Growth Equity Limited Partnership is a limited partnership established under the laws of the Province of Ontario.
The investment objective of the Partnership is to provide Limited Partners with the opportunity for capital appreciation by investing in the equity securities, convertible securities and/or preferred shares of late-stage pre-IPO private issuers. "Growth Equity" investment occurs in that period in a private company's trajectory when it stays private for longer than traditional time frames, raising additional capital via venture capital funds allowing the company to grow exponentially prior to a going public transaction.
The Partnership will purchase equity securities, convertible securities and/or preferred shares of investee companies and will hold such securities until a liquidity event for the investee Company, following which the Partnership will distribute the net proceeds realized by the Partnership in connection with the liquidity event to Limited Partners
Members of the General Partner have been involved in gathering information on late-stage, U.S.$1 billion plus companies in North America for the past five years. During this time, they have gained expertise in identifying opportunities for investment in private issuers at competitive prices as well as building expertise in obtaining access to issuer financial and performance information.
The General Partner has a database of shareholders and information that is continually expanding which is furthered by its relationships in Silicon Valley, New York and other venture capital investment areas.  Through the relationships of the General Partner's management team, and the successful completion of share acquisitions in the growth equity space
WHY INVEST IN GROWTH EQUITY?
---
The Manager and the General Partner believe that later stage well known, privately funded companies offer attractive growth opportunities for accredited investors. Increasingly, private companies elect to stay private for longer raising capital to build global brands, with large install bases and…
As a way to access this unique asset class, the Manager and the General Partner have ….
GREATER RETURNS FOR PRIVATE INVESTORS
Over the last 20 years, technology companies have stayed in private hands, raising multiple rounds of capital from founders, venture funds and investment banks to achieve their growth objectives long before they enter the public markets.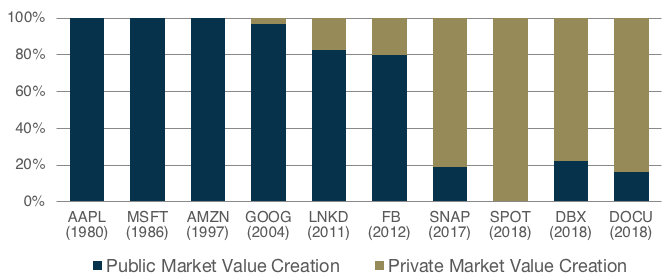 The Funds primary focus are those companies that have the following criteria:
Minimum $1 Billion USD Valuation
Brand name awareness
If you are not currently using them, then a friend or family member is
Install base of  100 million plus users
Global Platform
Employee Base over 100
Generating Significant Cash Flow
VENTURE-BACKED COMPANIES ARE
STAYING PRIVATE LONGER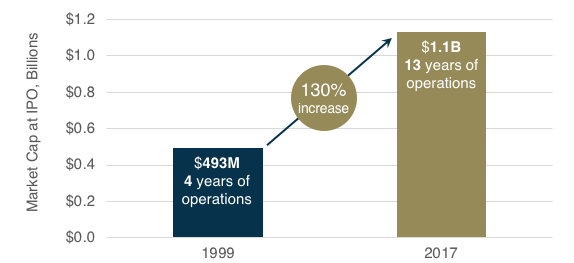 Source: Initial Public Offerings: Updated Statistics, Jay R. Ritter, Cordell Professor of Finance, University of Florida
SOURCE: University of Florida, Offer Price > $5.00, incl. Amex, NYSE, NASDAQ, CapitalIQ
TOP RETURNING ASSET CLASS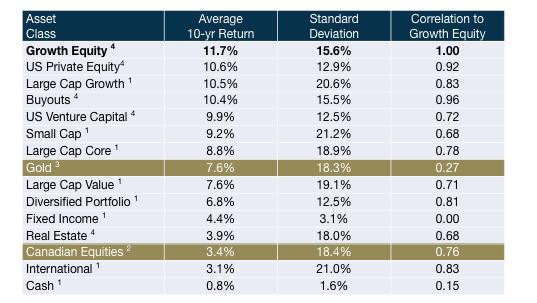 Annual Returns for 10-year period Jan 2007 – Dec 2016
1. blackrock.com/investing/literature/investor-education/asset-class-returns-one-pager-va-us.pdf
2. 1stock1.com/1stock1_766.htm
3. usfunds.com/interactive/the-periodic-table-of-commodity-returns-2016/#peri
4. cambridgeassociates.com/benchmarks/
Commissions, trailing commissions, management fees and expenses all may be associated with mutual fund investments. Please read the prospectus before investing. Mutual Funds are not guaranteed, their values change frequently and past performance may not be repeated.
Contact Client Services:
416-364-8989
1-800-831-0304 and press 3
UIT Fund Corporation
120 Adelaide St W – Suite 2107
Toronto, Ontario
M5H 1T1
© UIT Funds 2016. All rights reserved.