OVERVIEW
---
The objective of the Ninepoint Alternative Health Fund is to achieve growth by investing primarily in equity securities of companies engaged in nutrition, nutraceuticals and new forms of medicines and pharmaceutical solutions.
The Fund will invest in a modified capitalization weighted portfolio of 25 to 35 companies that are listed on North American exchanges that have a business strategy focused on new and alternative health and wellness related themes that are growing in acceptance and importance in North America. This includes pharmaceutical companies; nutritional vitamins and supplement companies, health and wellness service providers; businesses engaged in providing diet and weight loss programs; alternative healthcare service providers; Canadian licensed producers of marijuana and related service providers; as well as companies involved in the processing, marketing and distribution of organic food and beverage products.
To be included in the portfolio, the securities must have
(i) a minimum market capitalization of $100 million at the time of investment
(ii) an average daily trading value in excess of $1,000,000
Performance
| | | | | | | | Since Inception | Since Inception |
| --- | --- | --- | --- | --- | --- | --- | --- | --- |
| 11/30/2023 | 1 Month | 3 Months | 6 Months | YTD % | 1 Year | 3 Yrs Annualized | Annualized | Total Return |
| Series A | 7.40% | -1.03% | 5.86% | -6.50% | -20.21% | -8.30% | 2.19% | 15.69% |
| Series F | 7.51% | -0.76% | 6.44% | -5.55% | -19.31% | -8.33% | 4.31% | 30.47% |
Following the successful special meeting of securityholders of the Fund held on March 19, 2018, the UIT Alternative Health Fund has become the Ninepoint UIT Alternative Health Fund.  Ninepoint Partners is the Fund Manager, Faircourt Asset Management will continue to be the Sub Advisor of the Fund.
For current NAV, Performance and related fund information moving forward, go to: http://www.ninepoint.com/funds/ninepoint-uit-alternative-health-fund/
Growth of $10,000 invested in Ninepoint Alternative Health Fund
Net Asset Value (NAV)
| | |
| --- | --- |
| Series A | $11.12 |
| NPP5420 | November 30, 2023 |
| | |
| --- | --- |
| Series F | $11.74 |
| NPP5421 | November 30, 2023 |
Quick Facts
Asset Class
North American Equity Growth
 Management Fee
 1.25%
Net Asset Value Pricing
Daily
Distribution Frequency
Annual
If Required
Eligibility
RRSP/RESP/RRIF/TFSA/RDSP
Top Ten Holdings as at October 31, 2023
Abbott Labs
CostCo Wholesale
Eli Lilly & Co
Green Thumb Industries
Johnson & Johnson
Kenvue Inc
TerrAscend Corp
Trulieve Cannabis Corp
UnitedHealth Group Inc
Verano Holdings
Sector Allocation as at October 31, 2023
| Sector | % | |
| --- | --- | --- |
| Cannabis | 40.4 | |
| Other Wellness | 13.6 | |
| Cash & Equivalents | 14.7 | |
| Pharmaceuticals & Health Technology | 29.3 | |
| Organics, Supplements & Nutraceuticals | 1.9 | |
| | | |
| | | |
| | | |
| | | |
WHY INVEST IN THIS FUND?
---
We believe there is an investment opportunity in the alternative health area at a time when traditional healthcare has been challenged by government cost constraints and insurance limitations and more people are adopting new treatments and health regimens outside the traditional medical market to enhance health and wellness.
We believe that key drivers of demand for alternative health companies include:
Increased traditional healthcare costs that affect both governments and individuals, leading people to seek cost efficient alternatives
Government programs promoting preventative health related initiatives and lifestyle choices
Growth in the baby boomer generation that desires a quality active lifestyle into advanced years
Greater interest in a holistic approach to health that promotes prevention, nutrition, and natural remedies
An area that is benefiting from these alternative health trends is medical marijuana, a sector we believe is on the cusp of significant growth. Currently there is a growing awareness among both patients and doctors of the possible benefits of medical marijuana to treat many ailments. Health Canada estimates the medical marijuana market in Canada can grow from 40,000 patients in 2014 to 450,000 patients by 2024.
As at September of 2016, there were already approximately 100,000 registered patients holding marijuana prescriptions. Canada's marijuana patient base is growing at a significant rate as physicians become more comfortable with the efficacy of cannabis based medicinal powers, reduced stigma attached to the use of cannabis, and the better forms of medication delivery that are present today.
Canadian Medical Marijuana Patient Enrolment & Kgs Sold
Source: Stats Canada, Canaccord Genuity
The Fraser Institute recently released data to show the baby boomers represent the largest percentage of the population and is estimated to represent approximately 23% of the population by 2030. This growing segment of the population will require a significant increase in per capita spending on traditional health care.
With the onset of aging and related physiological issues, pain management and a desire to maintain an active lifestyle is important, and current modes of treatment have serious risks. Commonly prescribed opioids have increased risk of addiction overdose and mortality. In addition, health care costs related to prescription medications show that alternative forms and modalities of pain management are needed to control costs and meet the growing needs of our aging population.
Canada's Population, 65 Years & Older 2016-2030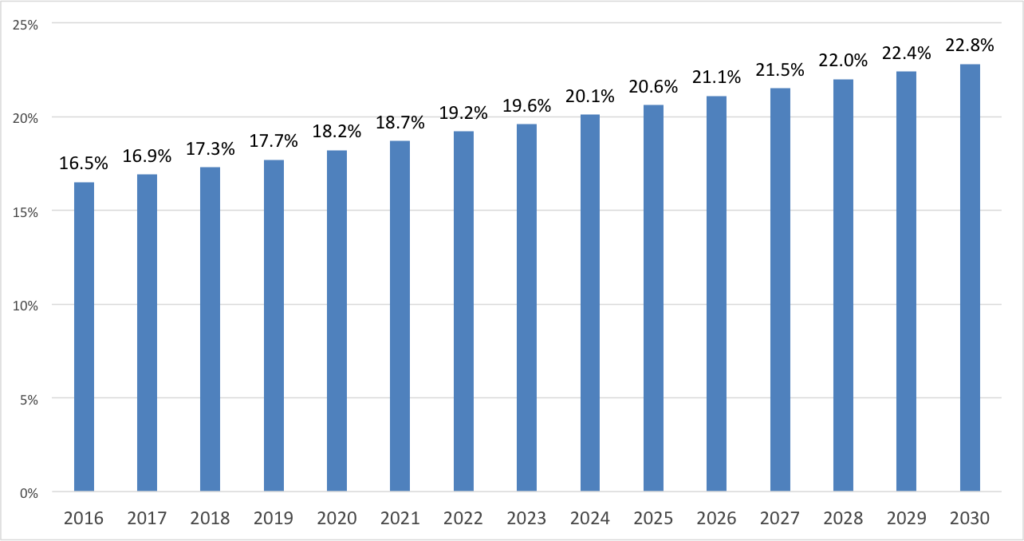 Demographics also favour increased adoption of cannabis for various medical ailments. Canadian Health Institute for Health Information research shows that one in five Canadian adults suffer from chronic pain, with chronic pain costs of approximately $6 billion annually. Opioids are commonly prescribed for chronic pain despite little evidence of long term efficacy, not to mention the higher risk of overdose related to opiods. The Canadian Centre for Substance Abuse stated in a July 2015 report that the rate of opioid use as a pain reliever is highest among seniors.
Source: Fraser Institute, Canadian Institute for Health Information
Although at an early stage, the cannabis sector can be seen to possess similar characteristics to other regulated industries such as pharma, biotech, tobacco and alcohol that offer high margins, restricted distribution, and attractive consumption usage patterns.
Cost of medical treatment is another driver in the growth of alternative health treatments. In 2016, total health expenditure in Canada is estimated to have reached $228 billion, or $6,299 per person. It is anticipated that, overall, health spending will represent 11% of Canada's gross domestic product (GDP). (Cdn Inst for Health Information). Canada is above the Organisation for Economic Co-operation and Development (OECD) average. The United States is the highest spender overall.
Increasing demand for alternative medicines and rise in demand of alternative drugs and natural therapies are expected to offer new opportunity to a population base that is more focussed on effective and preventative health modalities rather than the more traditional form of wait to see your physician. Wait times, cost constraints and government cutbacks result in more and more people taking care of their health proactively. As a result, we see continued growth in the alternative health sector.
Common Medical Conditions Treated With Cannabis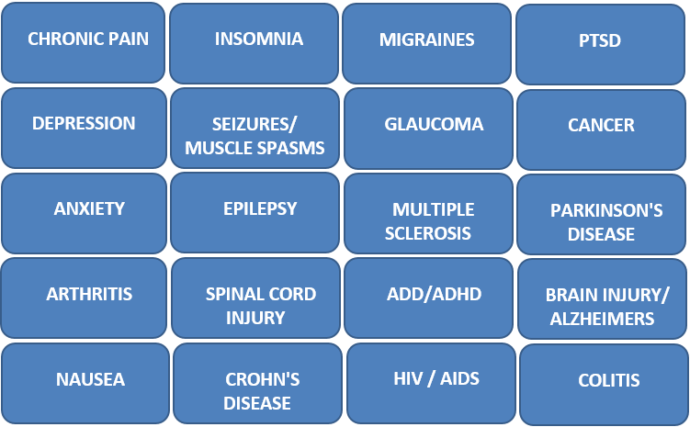 Source: Canaccord Genuity, www.projectcbd.org, www.medicalmarijuana.ca
Studies from The Lancet, a well-known UK medical journal, show that alternative health treatments are increasing in adoption as more people around the world are dealing with nutritional issues rather than starvation. Poor nutrition is now recognized as a major risk factor for chronic diseases. Most traditional health systems are ill-equipped to deal with this trend. Increasingly, patients are being encouraged to take part in their own treatments.
An area that is benefiting from these trends is the Nutraceutical industry, categorized as food or parts of food that provide medical or health benefits including the prevention and/or treatment of a disease. Nutraceuticals have advantages over various medicines because nutraceuticals avoid side effects and are natural dietary supplements.
Global Nutraceuticals Market By Region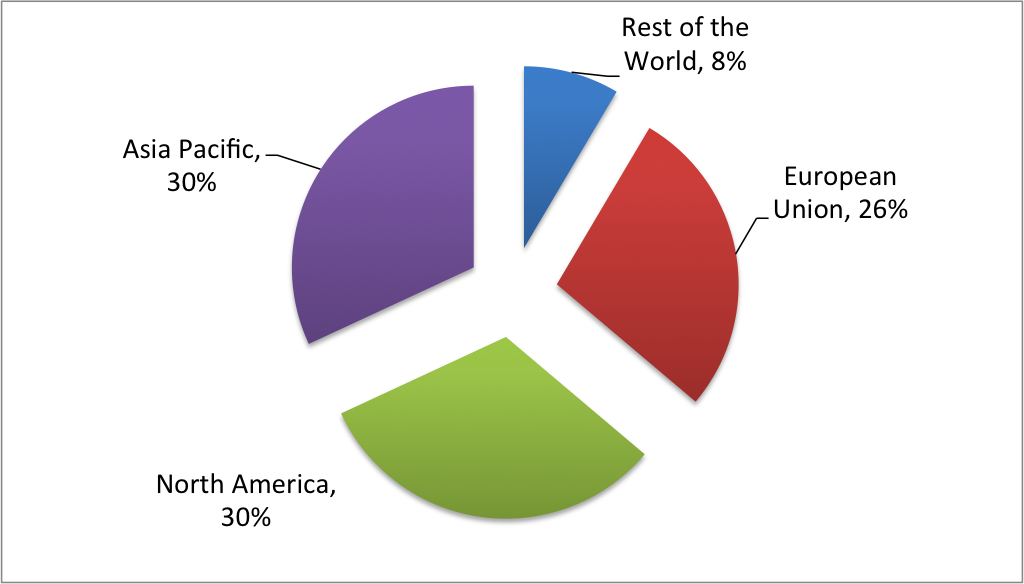 The philosophy behind nutraceuticals is to focus on prevention. The Journal of Preventive Medicine states that nutraceuticals are increasingly used to improve health, prevent chronic diseases, postpone the aging process and in turn increase life expectancy, in addition to just supporting functions and integrity of the body. The medical and health benefits have been linked to the prevention of life threatening diseases such as diabetes, renal and gastrointestinal disorders, as well as different infections. They also exhibit disease modifying indications related Alzheimer's disease, cardiovascular diseases, cancer, eye conditions, Parkinson's diseases and obesity.
The usage of nutraceuticals is expected to be driven by rising healthcare expenditures by consumers around the world. Some nutraceuticals have been regarded as alternatives to OTC and prescription drugs. Technological advancements and the growing use of nutraceuticals in many new applications are predicted to propel the global nutraceuticals market in the next few years.
Global Nutraceuticals Market Forecast to 2021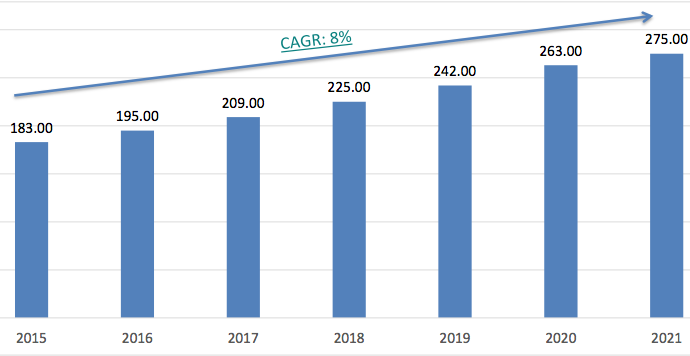 Source: Transparency Market Research, RNCOS
According to the Journal of Advanced Pharmaceutical Technology and Research, the most rapidly growing segments of the industry are dietary supplements (19.5% per year) and natural/herbal products (11.6% per year). Transparency Market Research, states that the global nutraceutical market is estimated at USD 183 billion and is estimated to grow to over $275 billion by 2021.
Commissions, trailing commissions, management fees and expenses all may be associated with mutual fund investments. Please read the prospectus before investing. Mutual Funds are not guaranteed, their values change frequently and past performance may not be repeated.
Contact Client Services:
416-364-8989 ext. 3
1-800-831-0304 ext. 3
UIT Fund Corporation
120 Adelaide St W – Suite 2107
Toronto, Ontario
M5H 1T1
© UIT Funds 2016. All rights reserved.
UIT Fund Corporation is a wholly owned subsidiary of Faircourt Asset Management Inc, well known for its innovative investment solutions since 2002. Current assets under administration are $700 million.
Go To Faircourt